Cherry Hills Village, just south of Denver, is one of the most exclusive and luxurious communities in Colorado. Home to professional athletes, local celebrities, business leaders, and well-established families of all ages, Cherry Hills boasts several magnificent neighborhoods and many fine luxury homes. Located in six and a half square miles of Arapahoe County, the community of Cherry Hills Village offers incredible views of the Rocky Mountains, private and oversized lots, horse properties, and large mansions situated around the famed Cherry Hills Country Club, the jewel of south Denver.
The Mark Hunke Team knows the real estate market in Cherry Hills Village better than any realtor in town. When you are ready to buy or sell a home in Cherry Hills, consider Mark and his team to be your dedicated partners. The Mark Hunke Team has presided over the transaction of exclusive, luxury properties in Cherry Hills for nearly a decade. No realtor in town knows more about real estate listings in Cherry Hills, and Mark is happy to share this knowledge with his clients, ensuring they get exactly what they want in a luxury home. Whether you are selling your luxury property, or considering a purchase in the community of Cherry Hills, contact The Mark Hunke Team to be sure your needs are being met, and you understand all of your options.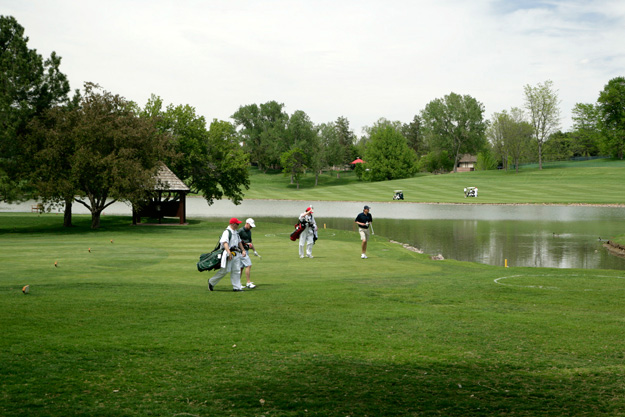 The Mark Hunke Team Offers Excellent Services in Cherry Hills!
Unrivaled Privacy and Community Infrastructure
Cherry Hills Village is a self-contained municipality on the edge of Denver. Residents of Cherry Hills value their privacy, their property and the livelihood of their neighbors. The city maintains its own facilities and infrastructure including excellent civic organizations:
| | | |
| --- | --- | --- |
| Cherry Hills Police Force | | |
Cherry Hills Village CO also has a well-established and dedicated city council made up of local civic leaders. If you want to be involved with the local community, the leaders of the city council are always available. Magnificent community events, social gatherings, and holiday parties occur regularly in the luxury homes and properties of Cherry Hills. This is the finest, safest and most exclusive place in Colorado to raise a family, bar none. You can even access the light rail train service for public transportation.
View Cherry Hills Village Listings
Holidays with Your Family in Luxurious Cherry Hills Village
Simply put, Cherry Hills Village offers the finest living in the Denver area. This community is home to many of the most successful and active citizens in Colorado. The fabulous Cherry Hills Country Club has been the scene of some of the greatest moments in the history of professional golf, including Arnold Palmer's comeback triumph in the 1960 U.S. Open. Miles of open space, palatial estates, towering trees, and the beautiful serenity of the Highline Canal Trail all make Cherry Hills one of the most desirable locations for luxury home buying. Not just in Colorado, but in the entire nation. Some of the wealthiest and most influential families in Colorado history actually settled in Cherry Hills and their roots continue to run deep.
For public education, the Cherry Creek School district rivals any in the nation. Clean and safe, Cherry Creek schools offer the best in public school academics and athletics with many specialized support programs. Cherry Hills Village also offers various private and religious schools for K-12 education including Kent Denver right in the heart of the community. Excellent education is central to family life in this community and as a Cherry Hills homeowner you and your family can access the best educational programs in Colorado. If you have questions about the amenities, schools or luxury real estate listings of Cherry Hills, contact The Mark Hunke Team.
Contact The Mark Hunke Team for the Best in Cherry Hills Real Estate.