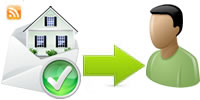 Be the first Home buyer to know when the Homes you desire hit the Market….. That is how you get the deal you want.
Luxury Property Alerts will save your search criteria and then notify you via email when…
New Luxury Home Listings become available that match your search criteria
A Property's Price drops to now fit your price range
Get Property Alerts in your email and be the first to know when new homes come on the market! If you are not finding what you are looking for contact us for assistance.